India is a vast country, not only in terms of geography, but also in terms of populace. This vastness requires a similaraly expansive political governance structure that can cater to the different needs of the populace.
The existing political governance system has accordingly been designed where the three tiers of the government have been assigned different roles and responsibilities. The three tiers are – Union Government, State Governments, and Local Governments / Bodies. Local Bodies are further divided into two categories – Urban Local Bodies (ULBs), and Rural Local Bodies (RLBs).
This section focuses on Rural Local Bodies which are also known as Panchayati Raj Institutions (PRIs).
As the name suggests – RLBs are institutions for the governance of rural areas.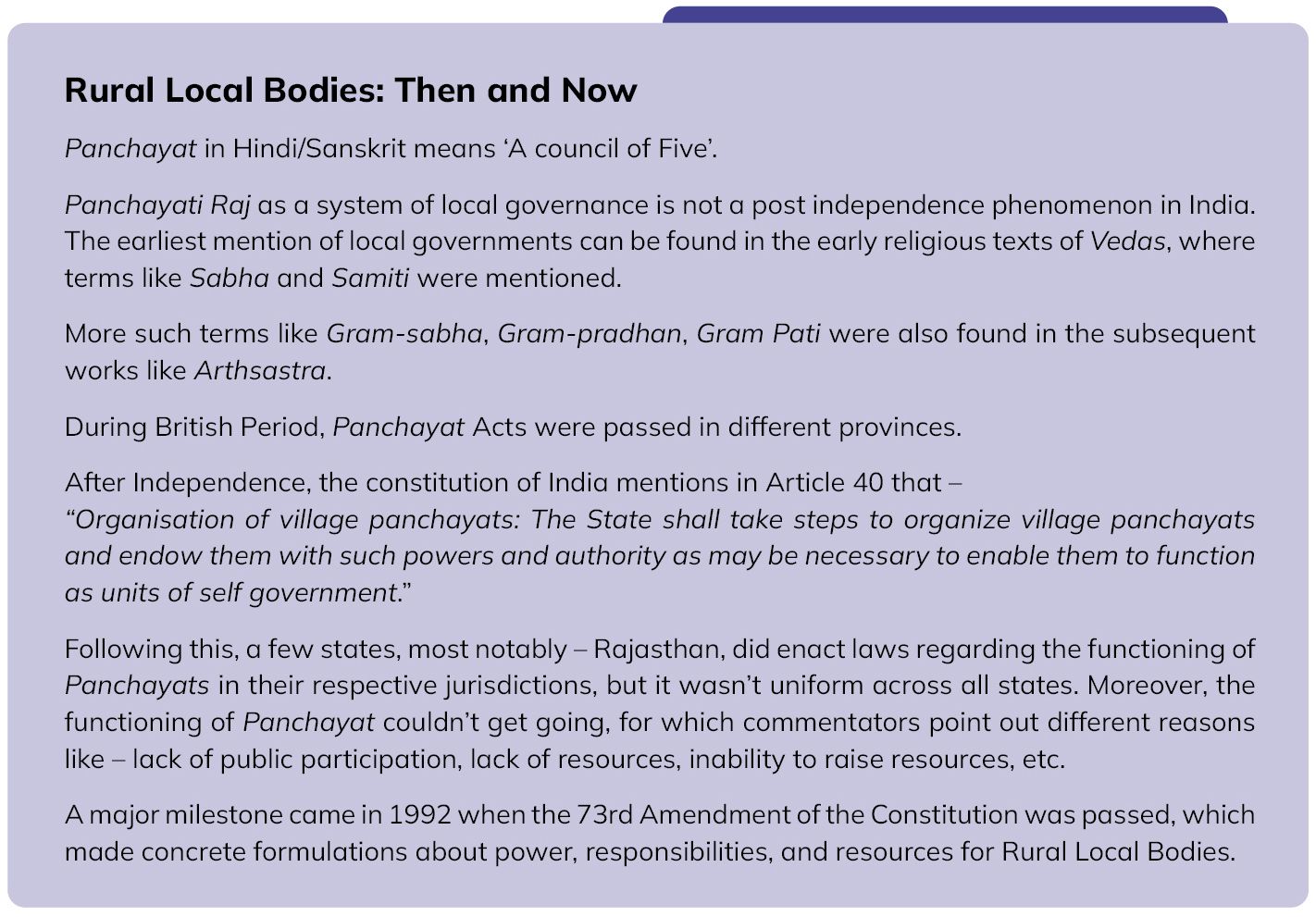 Types of Rural Local Bodies
Depending on the area they govern, RLBs can be divided into three different types.
Gram panchayats – these RLBs operate at village level. Generally, the head of gram panchayat is called 'Sarpanch'.
Mandal or Taluka Panchayats or Panchayat Samiti – these RLBs operate at Block level, and are generally headed by a chairperson or deputy chairperson. These panchayats act as a link between gram panchayats and zila panchayats.
Zilla panchayats or Zila parishad – these RLBs operate at District level. Its office is located at the district headquarters. The chairpersons of all mandal panchayats are members of Zila parishad. These members elect a chairperson to head the Zila Panchayat. The 'District Collector', or 'District Magistrate' or the 'Deputy Commisionor' acts as the convening secretry of Zila Panchayat.
While in case of Zila panchayat and Mandal panchayat, their areas coincide with the administrative boundries of district and blocks respestively, the area of a gram panchayat does not have to coincide with a particular village. It is created on the basis of population, and may include more than one village.

The states or Union Territories which have less than 20 lakh inhabitants, there would be only two levels of PRIs namely Gram Panchayats and Zilla Panchayats.

Some of these terms, like zila, mandal or gram might differ across states mainly because of the language differences.
Figure 1: How the Three layers of Panchayats are Connected